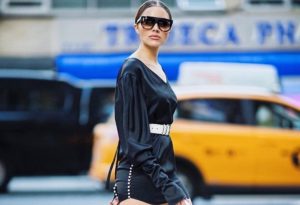 Can't social climb, swindle, or sleep your way into getting an invite to 
NYFW events
 this year? Can't say the same for us, because we're Guest of a Guest, after all. But that doesn't mean you can't get a behind-the-scenes look! Your latest guilty pleasure on E!, 
Model Squad
, is a new reality show starring the It Girls of the fashion world. Namely Dev Windsor, Olivia Culpo, Hannah Ferguson, and yours truly. Yes. I'm seriously starring on 
Model Squad
. I know, I know. I was made for reality television because I'm human garbage. So I will be an incredible foil to the pristine, otherworldly Olivia Culpo in the episode they filmed at the Stuart Weitzman party at 1 Hotel in Brooklyn. I was the Corinne Olympios to her Kristina Schulman, the Alexis Neiers to her Gabby Neiers, the James Kennedy to her…wait, I don't think there's a single person on 
Pump Rules
 that isn't subhuman scum or the devil incarnate. Actually, I think James Kennedy is the most innocent one this season…? Oh well! Moving on! Anyway here are some spoilers: 1.  Olivia Culpo is definitely lying about her height. She's not 5'7. But she's so beautiful and kind that we'll let it go. 2. It took SO MUCH SELF CONTROL not to say to her, "Hey I call your boyfriend 'Daddy Amen-do-me,' got any dick deets?" I say this as someone with so little self control that she actually asked Corinne about her Juicy J music video during an interview. 3. If I'm interpreting Dev Windsor's words in the way she intended…she's full of shit. Supermodels are not the top of the top. Literally everyone is a model these days. You can just buy fake followers and take pictures of avocado toast and high schoolers in Idaho will idolize you. 4. I hate how fat I look on screen, even though I haven't even seen my episode yet. Starting my Fit Tea and crystal meth cleanse already.
[Photo via @oliviaculpo]